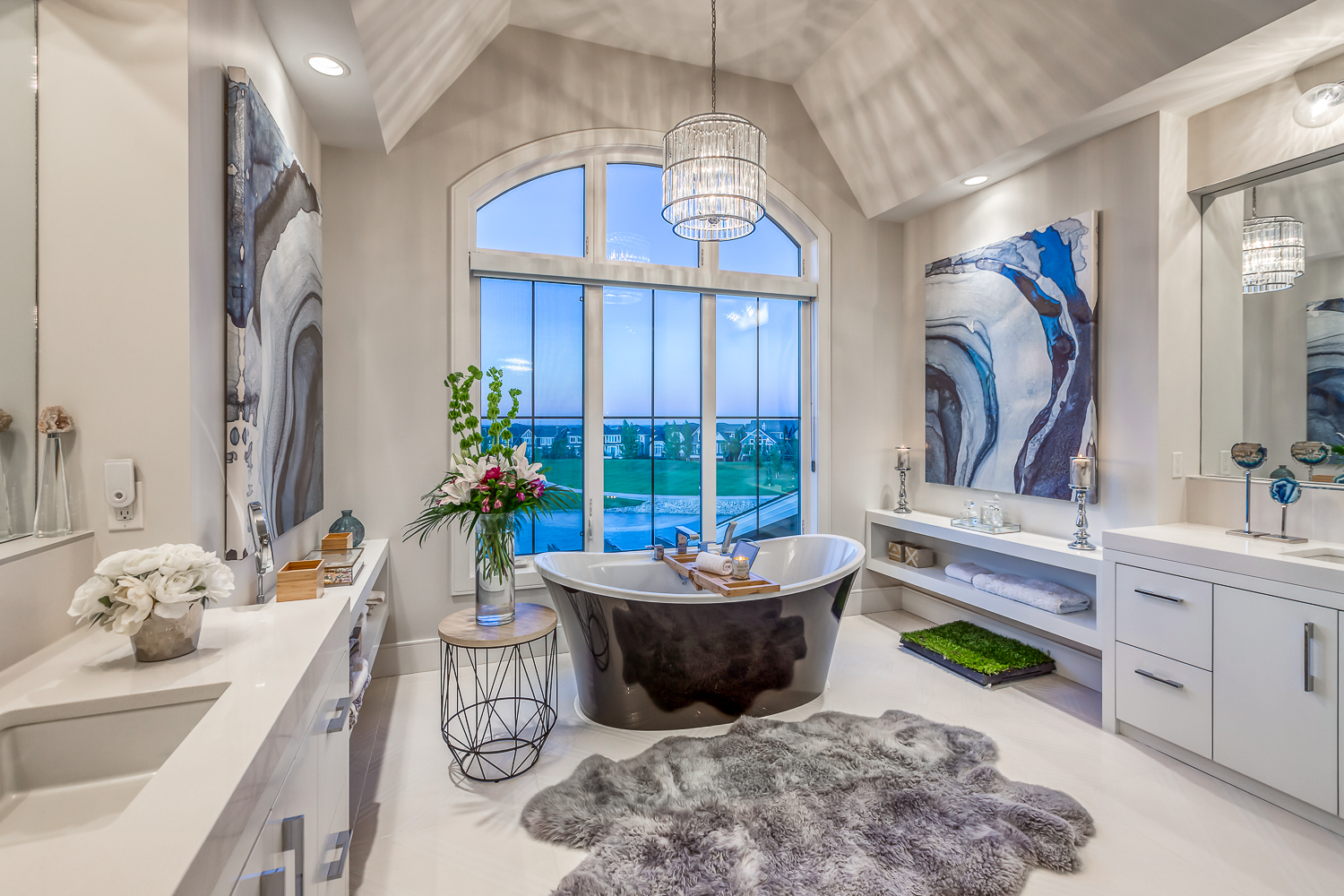 16 Aug

7 Ways to Level Up Your Property Listing Photographs

Your property listing photographs need to be outstanding to compete in today's digital-first world of endless scrolling. You only have a few seconds to make a memorable first impression! Since your real estate photos serve as the foundation of your property marketing, it's wise to do everything you can to make them magnificent to maximize selling price and expedite selling time. It's what your clients and the property deserve, after all.

To help you enhance your marketing assets, we're sharing 7 ways to level up your real estate photos so you can hook buyers in before your competition does. Read on below!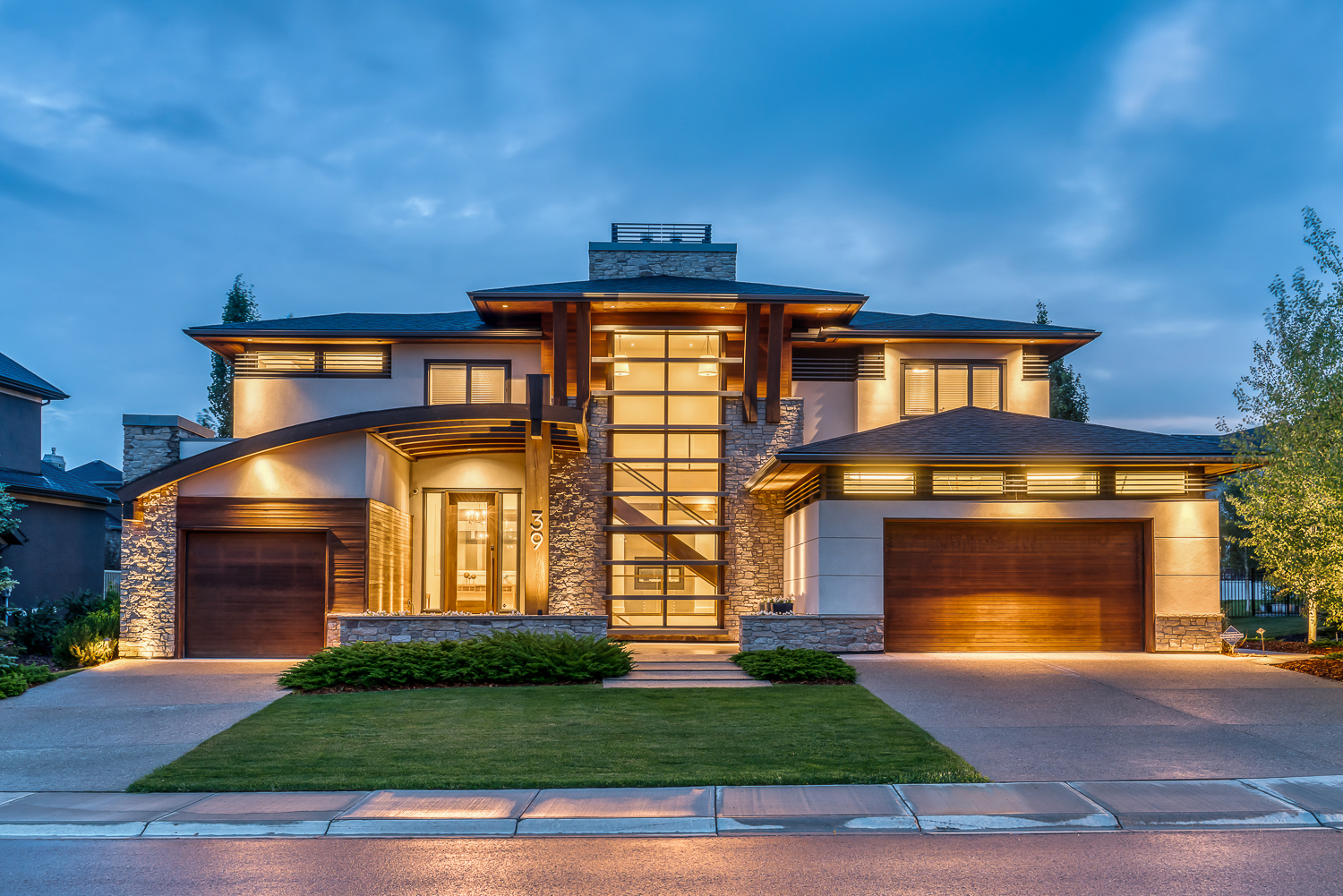 1. Let Your Listing Shine with Twilight
For luxury properties, twilight photographs are an essential. Private pool areas, exceptional landscaping work, fire pits, and striking exterior designs are made even more marvellous with the help of the magical blue hour. In fact, luxury buyers expect real estate agents to go above and beyond when marketing properties for this particular target market. But twilight photographs are a useful upgrade even when your property possesses a different kind of modest charm.
No matter what price point your listing is at, twilight images will bring out the warmth of exterior lights. This makes the home look more welcoming and comfortable, enticing buyers to see the home in person since every human being desires a warm, inviting home. Daylight shoots still dominate the eyeball economy on the MLS, so your listing will certainly stand out online. You can even opt for a sunset shoot as opposed to a twilight shoot, to create visually appealing images with warmer tones and to provide a fresh look to your promotional marketing assets.
Sona tip: Twilight photography is not for amateurs or hobbyists! You must capture the entirety of the property within a very short amount of time, and you'll need to follow a very specific HDR process to make sure the colours are captured correctly in the photographs. If you're looking to provide twilight images for your listing, it's best to partner with a professional property photographer who specializes in twilight shoots.
(Read more:  Why You Still Need a Professional Photographer in Real Estate)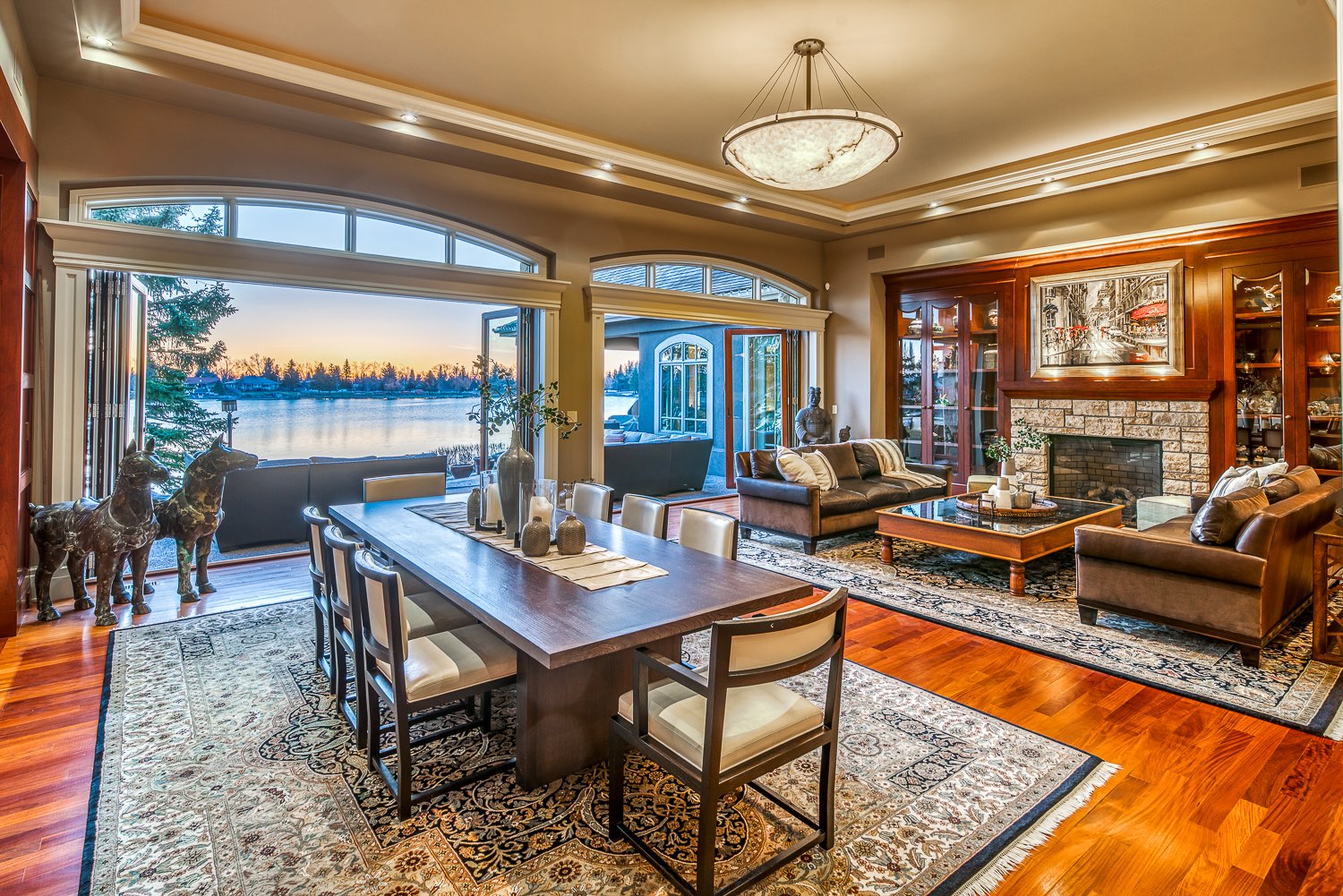 2. Property Selling with Sunrise
Similar to twilight photographs, sunrise photography is an exceptional option for those looking to showcase their properties in the best light. Instead of opting for a Blue Hour shoot, you can opt for a Golden Hour shoot, which is 30 minutes after a sunrise. Sunrise images provide a fresh feeling of crispness and clarity to real estate photographs, which work well for lakeside properties (example above). Sunrise photographs are certainly an upgrade from the regular daytime property images that are so common on the MLS.
Sona tip: Provide as much context as you can for buyers! Combining a few images of what the home would look like at different times of day during various seasons throughout the year will help them understand the feel of a home. Coupling twilight images with sunrise ones can help you provide more context, and also shows that you're a relator who goes above and beyond to share information.

3. Blue Sky Replacements
 to Boost Buyer Mood
Say goodbye to delaying your listings due to unfavourable weather conditions! No matter what the sky looks like on the day of your shoot, rest assured you'll have some beautiful blue ones in the final images, thanks to Blue Sky Replacement technology.
Why are blue skies so important in property photographs, you ask?
Put simply, attracting people to a real estate property begins with connecting the property's exterior to its surroundings. The first image your buyers will see online is normally the exterior of the home and the surrounding landscape and sky. Since the sky provides the overall mood of the photo, your buyers are emotionally impacted by the exterior photo they see – whether they realize it or not. A gloomy or smokey sky will simply turn them off of your property, and they'll scroll on to the next! In a highly competitive market, you'll need every and any advantage to get buyers in the door.
Blue Sky Replacements provide a quick fix for an otherwise disadvantageous look and feel for real estate photos, making them another great way to upgrade your listing photos!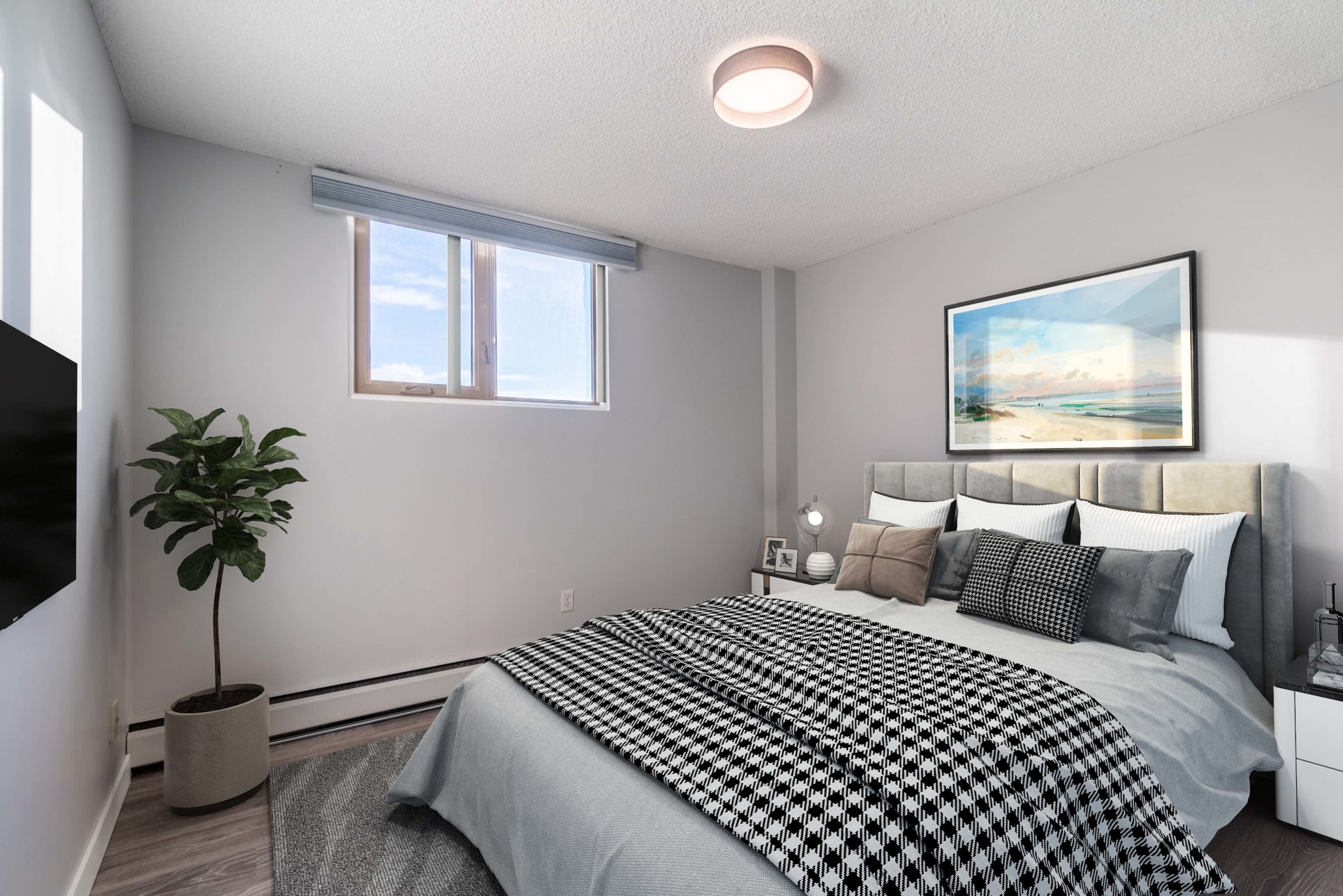 4. Stimulate the Imagination with Virtual Staging
Staging for real estate property listings is important for a few reasons. Firstly, most buyers cannot see beyond what is in front of them. If they see a bland, boring, and vacant room, they won't be inspired to see the property as their future home that's full of warmth and comfort. Unfortunately, traditional staging isn't always an option given a limited budget. Luckily, virtual staging gives you the ability to add furniture and decor that's suited to the style of the home, taking your real estate photographs from blah to BOOM!
Secondly, sometimes room layouts can be awkward, which gives you an opportunity to show a potential buyer how they can make the most of it. With virtual staging, it's possible to add features like barn doors to show buyers potential modifications they'd like to consider. You can modify aspects of the room itself, like change the paint colour. Just make sure you make a note that the image is digitally enhanced to avoid confusion! You can fo above and beyond and show clients the Before and After photos in conjunction so it inspires them to consider simple renovations to personalize the home.
Lastly, virtual staging helps buyers with space planning. Rooms tend to feel a lot smaller without furniture, so placing digital furniture gives buyers a sample of arrangements that are possible within a room according to their needs. This technology encourages them to consider which furnishing elements work best considering the size and shape of a room.
(Read more: Why More Real Estate Agents are Choosing Virtual Staging)

5. Refine and Enhance with Advanced Editing
Your professional listing photographs should showcase the property without any distractions. Unfortunately, there are often external elements that affect your shoot day that are out of your control. That's okay! Thanks to advanced editing software, those distractions, like cars in the example above, can be removed in a realistic fashion. Advanced editing can be used for internal distractions as well. It can be used for simple fixes such as removing trash bins that can be an eyesore for property viewers. It's all in the details!
An unwanted distraction isn't the only reason why advanced editing can come in handy. Sometimes the property itself could use a few quick fixes or upgrades. For example, advanced editing can be used to fix patches of bare spots in the lawn. While patchy grass may not influence the price of a home substantially, it makes a huge difference in the way a property is presented in your marketing.

6. Offer a New Perspective with Aerials
Aerial drone photography is just plain cool. But beyond that, including aerial drone images in your property listing literally elevates your marketing because you're showing potential buyers the surrounding area. Every real estate professional knows that this business is not only about selling the property itself, but about selling the lifestyle, and therefore, the location.
Are there any points of interest in the community you'd like to highlight? Would your buyers wake up to a fabulous downtown city or majestic mountain view? Are they interested in nearby amenities, like schools, major highways, and outdoor recreational parks? Are you looking to highlight the condition of the roof? Is the property situated on a large piece of land? Are you looking to outpace the competition, show your clients that you're innovative and keeping up with tech trends, or simply impress buyers upon first scroll?
If you answered YES to any of the questions above, aerial drone photography is an effective way to showcase your next listing.
(Read more: 5 Benefits of Using Aerial Property Photography and Videography for Real Estate)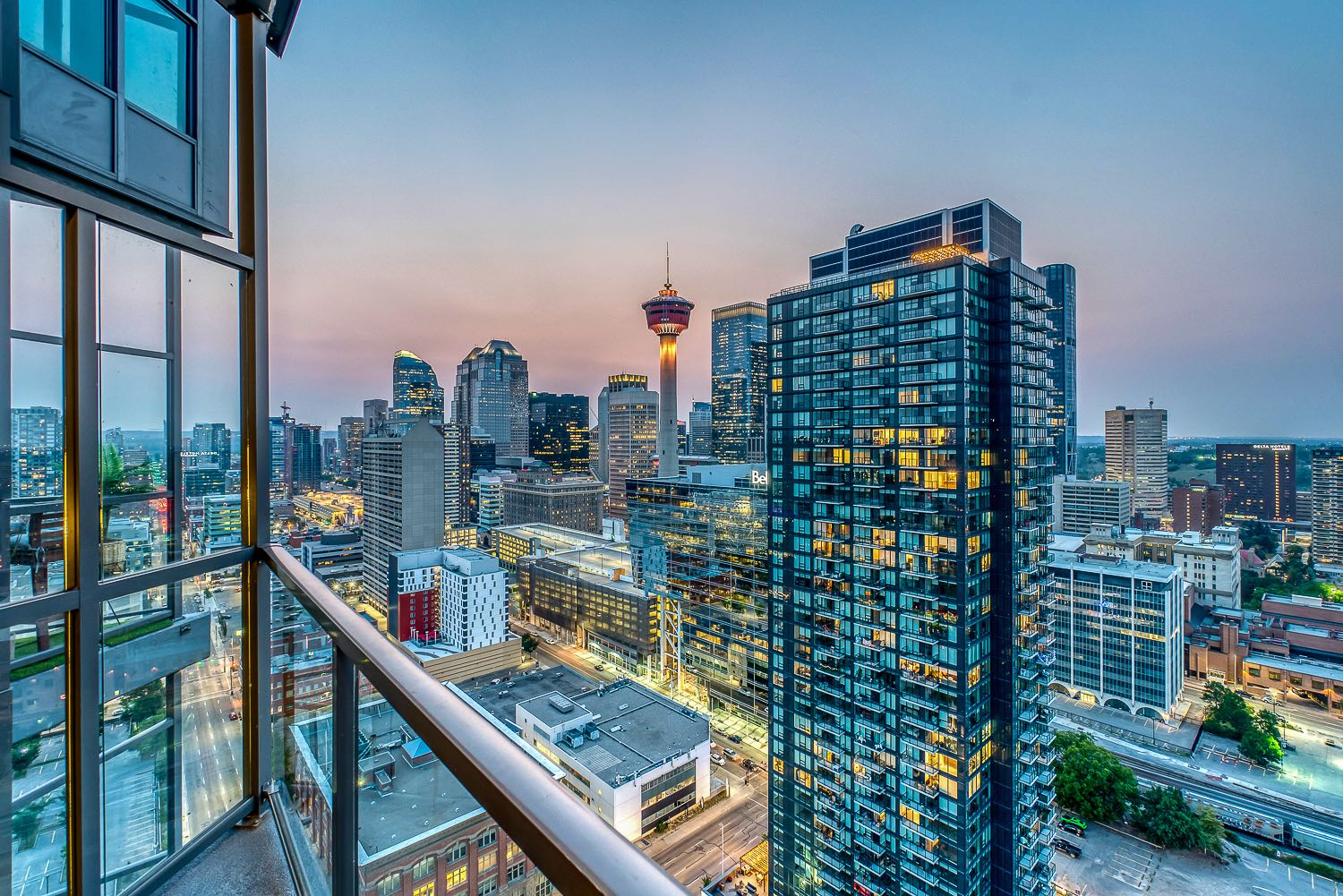 7. Sell the Complete Lifestyle with Community Shots
Most realtors will provide photographs of their property listing itself. Great realtors will include community shots, too. Photographs of the surrounding community are extremely helpful to selling the lifestyle your buyers desire. Think about what places in the surrounding area your ideal buyer would care about. If your property listing is a modern single family home in a newly built suburban area, you may want to include nearby schools and playgrounds in the community. If your property listing is a ritzy downtown condo, you may want to include downtown city views your buyers enjoy if they purchased the listing or the trendiest restaurants that are steps away from the building.
Including community shots in your listing is not only shows potential buyers how their lifestyle would be upgraded by purchasing your listing, it's an opportunity to establish yourself as a local expert. This is especially true if you specialize in a few communities within your city. What community highlights can you include? Even better, what are some hidden gems in the local area can you share with buyers? As you share your knowledge and expertise, you provide exceptional value to clients and build a trustworthy and reputable brand in the real estate industry.

Partnering with a Property Photography Professional
Needless to say, the aforementioned photography upgrades require high-quality base photographs to begin with. Twilight and sunrise photographs are only captivating when they're sharp, clear, and shot with a wide angle lens. It can be challenging to digitally enhance images using virtual staging, sky replacements, or advanced editing if the base photograph is pixelated to begin with. Community and aerial photos are great for showing buyers the "big picture", but you will still need professional images of the actual property. That's why it's advantageous to partner with a highly specialized property photographer who is dedicated to shooting real estate to ensure your bases are covered. Everything from the photography equipment, such as lenses and tripods, to the editing software used will vary greatly from other types of photography.
The Sona Standard
Our professional media team has been serving the Alberta real estate industry for almost a decade, and we don't plan on slowing down any time soon. If you're ready to offer property sellers magazine-worthy real estate listing images, get in touch with us at [email protected]. We have innovative tech tools, an experienced team, and an efficient booking system to make it happen!
Don't forget you can follow us for more marketing tips on social media @SonaVisual. We're pretty active on Instagram, Facebook, and YouTube.